I truly appreciate when a customer asks me to make a quilt and gives me a general guideline.  For this quilt, the only guideline was girly, more traditional girly than bright.  I had an idea already in mind but not being as bright really made me re-think the design.  There were some scraps of Marmalade buried in my bins and I thought they just work.
Looking back, I made these quilts five years ago.  Goodness.
Five years these scraps have been hidden away in a green tub in my sewing room.  No more.  There were just enough to create a scrappy Irish Chain quilt.
It was therapeutic to chain piece the blocks while binge watching something on Netflix.  It's easy to get lost in a series when you blocks to piece.  This stack is lovely.
If you haven't made a scrappy Irish Chain quilt, add it to your list.  With 2″ scraps, your block finishes at 5″.  I tend to keep a stack of Kona White 5″ blocks around for just this situation.
The quilt top came together easily.  I struggled to pick the right backing for this project.  As I started this quilt I envision using Kona Robin's Egg blue on the back.  While digging around for another project's scraps, I found a pink and green stripe that complimented the front.  What to do?  Thanks to Instagram and Facebook, my original idea won.
Kona Pomegranate was also found while digging around.  It was perfect dark pink to coordinate with all the other colors.
Let me ask again, "Why did I wait so long to try free motion quilting?"  Being able to quilt something in just a couple of hours is liberating.  It's not perfect and that is okay.
My original vision came together into this lovely quilt.  Girly, colorful, and scrappy.  There are now just tiny pieces left of Marmalade in my scrap tubs.
---
Links to other Marmalade quilts
---
Link ups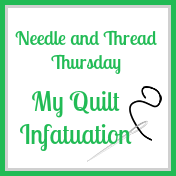 Finish It Up Friday with Crazy Mom Quilts